In a nutshell, the program is 15 months of intensive study and teaching experiences that all lead to a New York state teaching credential in grades 7-12 Earth Science teaching. There are two summers and a school term over the 15 month period and the two summers are spent in the hallowed halls of AMNH, working with collections, curators and educators on mastering the art of informal learning. The school term, of course, starts in the Fall, and I will be placed in residency at a school affiliated with the MAT program. In the Spring semester, I'll be placed a different affiliated school so that I get exposed to a different aspect of teaching. At the end of the MAT program, with my new teaching credential, I will be employed as a teacher in a high needs school somewhere in New York. Somewhere close to my Poughkeepsie home is what I'm hoping for!
A teaching program at a museum is not so common. I am in the 3rd cohort of students in the MAT program. This video will give some background.
My education started soon after I heard of my acceptance into the MAT program when I was invited to come to two different talks at the Museum. On April 9 I had the great fortune of listening to Neil deGrasse Tyson speak at a public lecture at the AMNH. For the 0.0004% of the population who does NOT know who Tyson is, he is the Director of the
Hayden Planetarium
at the AMNH. Plus, he's the host of the newly updated Cosmos: A Spacetime Odyssey series on FOX. Tyson spoke for about an hour and then answered questions, all on the making of Cosmos. I went into the talk thinking it would be about the Cosmos and astrophysics and astronomy, but no, it was much more down-to-earth. Thankfully!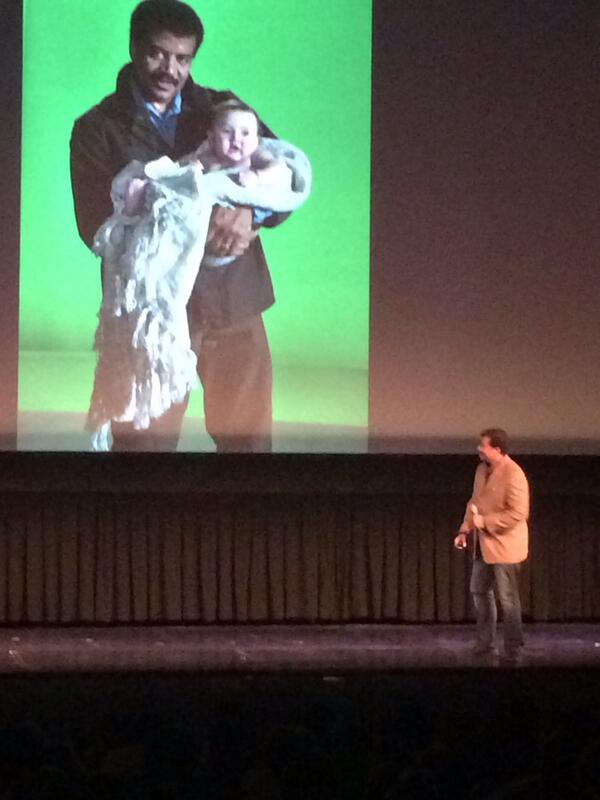 During his talk,Tyson showed what he called "a 1,000 slides because it was all novel!" It was all behind the scenes, green screen shots, and LOT'S of selfies. He had a very warm and regular-guy approach. There he was getting his hair done and dyed at The Blade barber shop. Here he is in California, eating his first In-N-Out Burger. "You see that long line of cars behind me in this shot? I said 'I'm not going to wait in a car to get food that I'm going to eat in a car!?! I've got to get out of the car for some time in the day!!' We walked in and there was no one waiting in line. They were all in their cars!" He showed many shots of food. And wine. All highlighting the fact of the novelness of this whole enterprise.
(The photo to the left is grabbed from @gmberrow and though I did not take this shot, Tyson said that someone asked him "Dr Tyson, why are you picking up a white baby in that scene in Cosmos?" Tyson told us that he responded with: The host is black, OK?! We got this!)
Tyson graciously praised the gaffer and the grips, "the hard-working people doing their thing, they're the ones making a film or TV show happen. Their names go by so fast at the end of the film that you never know that without them the movie could not be possible." He showed his makeup artist, his wardrobe person, his teleprompter person. He showed himself with glued-on stubble on his face "I can't grow facial hair!" It was a spectacular start to my education. (This one to the right is by @katmcsplat)
On May 12 I went to the second talk, this time with my son as my plus-1, and got to sit in the Hayden Planetarium and hear Katherine Freese talk about Dark Matter and Cosmic Cocktails. I was a little blown away and in over my head. My son said, "I think I might have sort of understood ¼ of that." I didn't tell him that I would put myself at about an ⅛. But the event was packed with people and this was the first time for me going to the planetarium (I'd been to one in L.A. as a young person.) I should have watched this video ahead of time, you know, flipped the classroom.
The photo of the front of the AMNH at the top of the page is by Marjorie Lipan with a CC license.